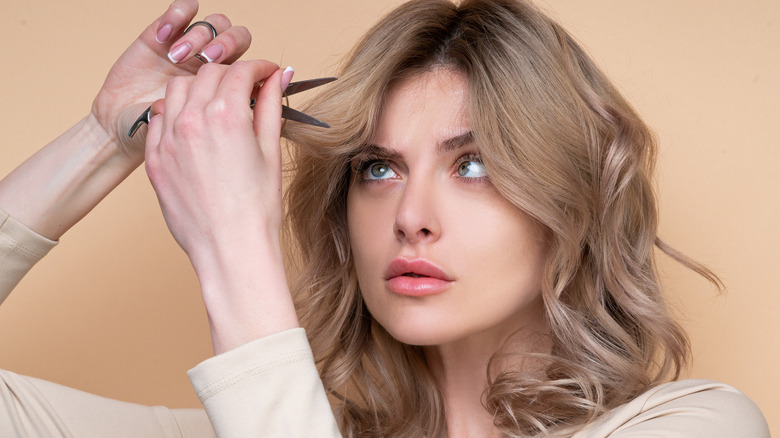 Curtain bangs were first made famous in the '60s and '70s by actresses such as Goldie Hawn and Farrah Fawcett (via Oprah Daily). The style involves the bangs being parted down the middle and swept to each side, hence the name "curtain" bangs. In 2022, the curtain bang trend is back in full force thanks to the power of social media. Celebrities such as Margot Robbie and Selena Gomez have been seen out and about rocking the retro look (via PopSugar).
The trend is not only beautiful, but it is also extremely low maintenance compared to other types of bangs. Whereas other bangs require daily styling using heat, curtain bangs are easy to style without heat. They also make for less frequent trips to the salon as they don't grow over the eyes like blunt, straight across bangs.
Curtain bangs are versatile and look great on a variety of cuts, hair colors, and face shapes. A fan-favorite way to style curtain bangs is with a shortcut. Here are a few ways to rock the curtain bang trend with your short hair.
The shaggy bob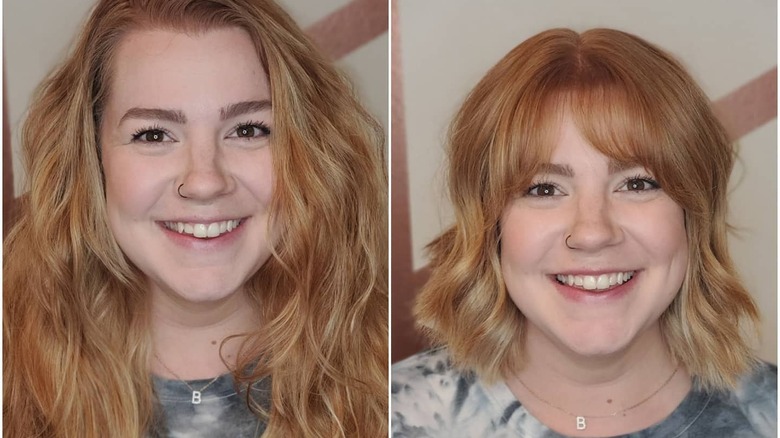 The shaggy bob is both effortless and chic, perfect for the girl on the go. The messy cut features choppy ends and lots of layers for a look like no other. Curly girls tend to love the shaggy bob as it is easy to style, naturally letting their wispy locks lay freely. If you do not have naturally voluminous, thick, or curly hair, adding some texturizing spray can help you achieve this look.
Curtain bangs flow right into the layers of this cut, making for a fun addition. Add some texturizing spray to the curtain bangs for "messy, yet elevated volume," as Anabel Santos, a stylist at Sally Hershberger Nomad, explains to Bustle.
The French bob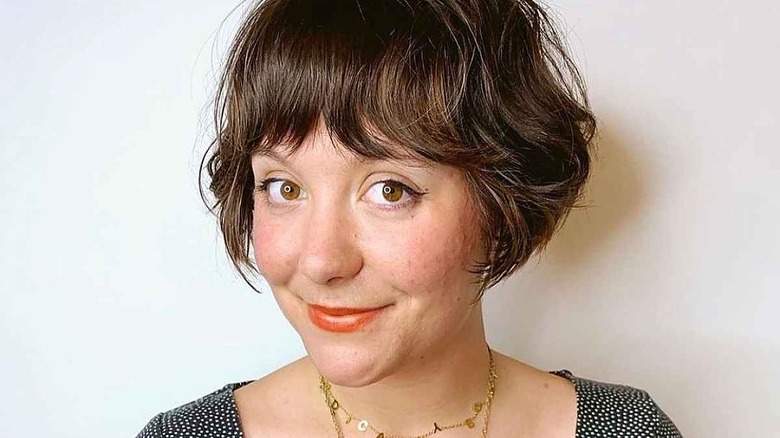 If you are looking for an effortless yet super chic way to style curtain bangs with short hair, the French bob may be the cut for you. The cheekbone skimming haircut with curved ends is known for being a go-to for French girls. Best of all, the cut is great for just about anyone who wants to give it a shot.
One of the most defining features of the French bob is bangs, whether fringed or blunt (via Glamour U.K.). In 2022, more French bobs are being styled with curtain bangs, as modern versions of the cut are less rigid. Curtain bangs add an unexpected twist to the classic Parisian look, making for a more flexible look.
The edgy pixie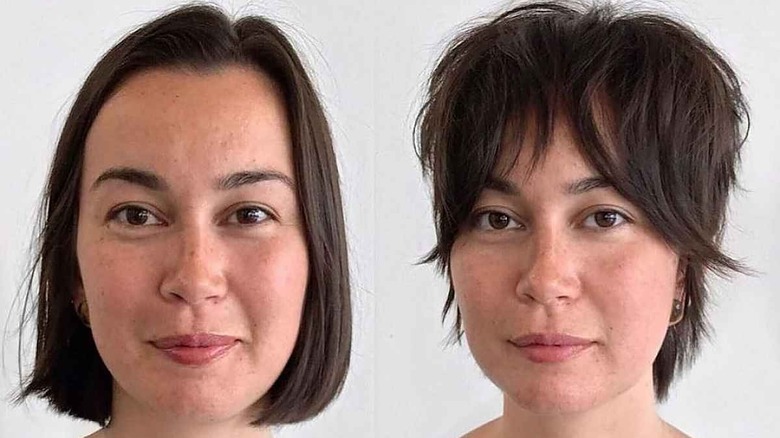 Pixie cuts are sassy, bold, and a great way to make a statement. Pixies are a fan favorite for those who are tired of their bob and are daring enough to go even shorter, per Latest Hairstyles. The style features a cropped cut close to the scalp on the back and sides of the head with a longer interior (via Lovehairstyles). The cut is versatile, meaning it is easy to change small details, such as adding curtain bangs.
Curtain bangs flow effortlessly into the many layers of a pixie cut. This short, feminine cut is great for rocking the curtain bang trend while showing off your spunky personality.
The blunt bob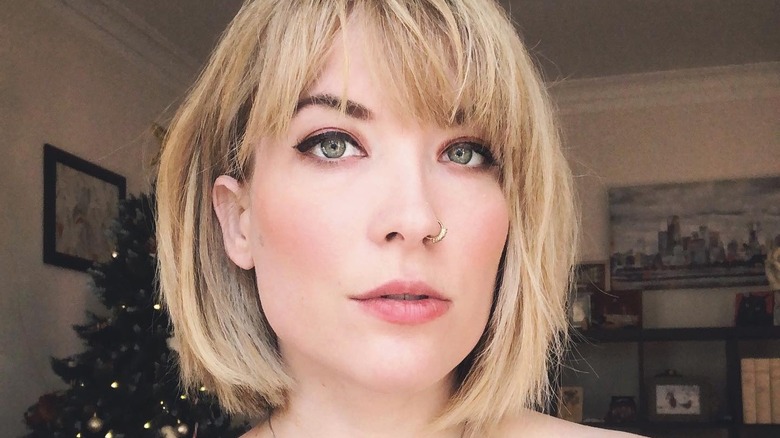 Chin-length bobs with blunt ends have been a rebellious and fun statement since the 1920s when women first began wearing bobbed hair (via Fashionista). The style is a chin-length cut that stays the same length all the way around the head. While the style has become a basic staple in every stylist's playbook, the blunt bob is anything but basic. This look is easy to style as you can often blow dry your hair and bangs with a round brush and go on about your day.
Add a twist to your chin-length, blunt bob with curtain bangs. A bit of fringe to frame your face is lifting and shaping for the entire cut (via Preview). Decades of styles will come together to create one amazing look!
The a-line bob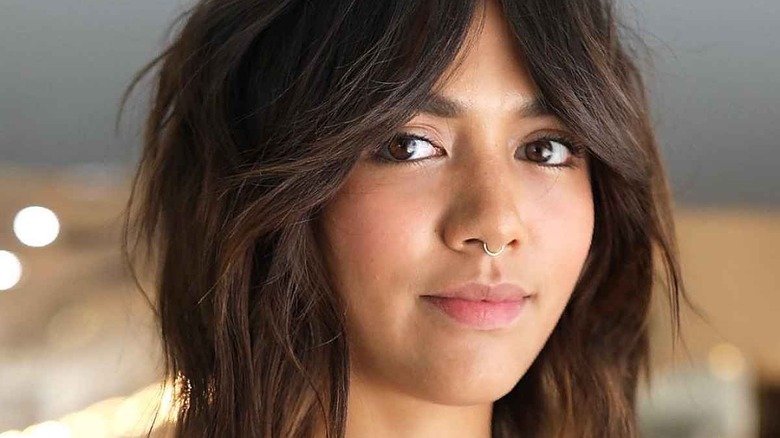 The a-line lob or the "long bob" is not exactly long. The a-line lob often starts in the back with short layers for volume and gradually gets longer towards the front of the face (via Glamour U.K.). Often, this style of long bob ends at the collarbone. This cut is versatile and can vary in length and layers.
For a-line lobs with lots of layers, curtain bangs are a great addition. The curtain bangs will provide natural bounce to your hair while framing your face, specifically for curly girls (via Latest Hairstyles). Now, there's no longer any need for lifeless, boring haircuts with curtain bangs!