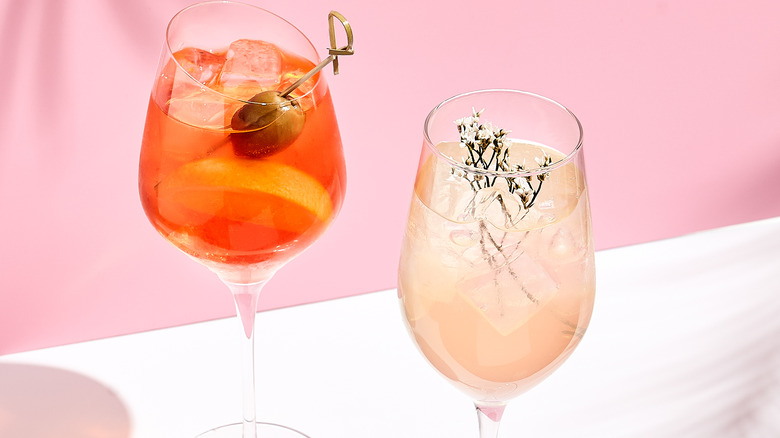 There's no doubt that Aperol Spritzes are synonymous with everything summer represents. When the hot, humid months hit, you probably want a drink that's refreshing, icy, and has a spike of citrus, or any punchy fruit that makes sure it isn't too sweet. An Aperol Spritz will do just that and more. As explained by Good Housekeeping, Aperol is a bitter apéritif that was born in Italy all the way back in 1919, and is an infusion of gentian, rhubarb, and cinchona that's known for its peppy, bright orange color.
You can taste the citrus in Aperol, and it's pretty light, sitting at 11% alcohol. Italian brands ambassador for Campari U.K. Loris Contro told the outlet that Aperol is "best enjoyed during aperitivo hour, when celebrating the end of the workday with friends."
Now, when you mix classic Italian Aperol with Prosecco and soda, you get the Aperol Spritz: a whole other ballgame entirely. This cocktail is best shaken over ice and sipped at the pool, beach, or anywhere you can lounge under the sun with pals. Reigning as one of the most popular aperitif cocktails in Italy (via Liquor.com), you can pretend you're smack-dab in the middle of the Amalfi Coast when drinking one.
Described as "fresh" and "bittersweet" with a "lighthearted spirit" by Aperol, itself, you get extra points for adding an orange slice. That being said, if you want to shake things up, we've compiled the best unexpected twists on the Aperol Spritz to keep your drink game fresh all summer long.
Blackberry and pineapple are just the beginning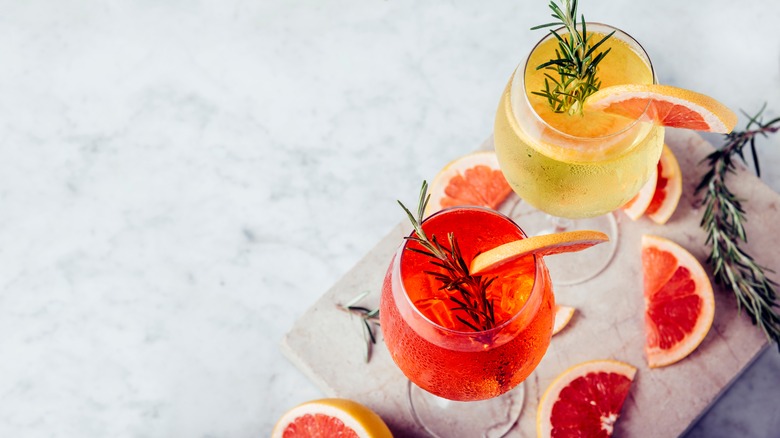 What are the best ways to take your Aperol Spritz to the next level this summer? While the classic drink is already downright spectacular, you would be surprised at the several hero ingredients that can put a surprisingly delicious twist on it. These unexpected Aperol Spritz ideas are perfect for serving to guests at summer barbecues, days at the pool with friends, or as an incredible signature drink for a bachelorette party or wedding. Trust us: Everyone will be asking for your recipe!
First off, ditch the orange slice or olive and go for something completely different. As mixologist Michael Stringer told Good Housekeeping, you can make a Japanese spritz by mixing "35ml of Aperol with 150ml of sparkling sake and 20ml of yuzu juice or fresh lemon juice." Another idea? If you love frosé but want to try something totally different this summer, go for the sgroppino. Cocktail expert Josh Ramsay explained to the outlet that you can mix "50ml of Aperol with two scoops of fruit sorbet (lemon, orange or grapefruit) and 100ml of Prosecco" for perhaps the iciest, most refreshing hot-weather drink in existence.
Other options? Add some homemade blackberry simple syrup for a sweet, delicious twist you'll adore (via Vindulge) or some slices of pineapple for all the tropical vibes (via Weekend Craft). Another fruit that works great in an Aperol Spritz? Candy-sweet muddled blueberries (via Food52).
There are countless ways to change up the classic Aperol Spritz recipe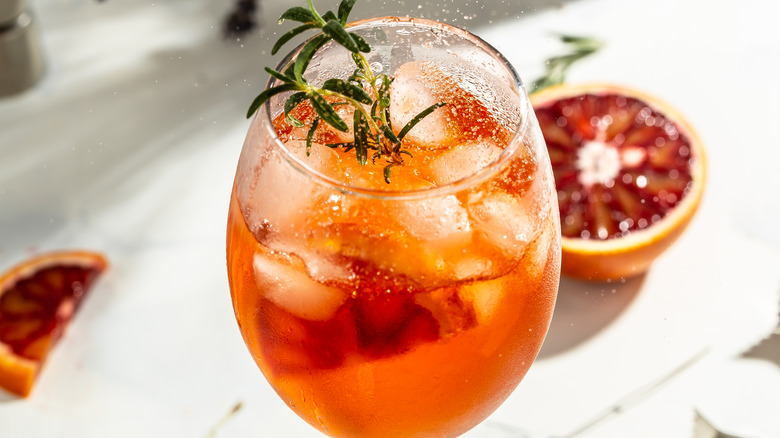 While you might think we're done with the best Aperol Spritz twists, there are a surprising amount of flavor combinations that work perfectly alongside the classic mix. For one, if you want to make like Meghan Markle and add a bit of elderflower to your life — Meghan and Prince Harry's wedding cake famously included the flavor blended with lemon — then add some of the ingredient to your Aperol Spritz.
Sugar & Cloth's Elderflower Aperol Spritz is every bit as elegant as it sounds and would be the perfect signature cocktail for any formal party. Simply mix Prosecco, white sparkling wine, or champagne with Aperol, soda, and elderflower liqueur. Extra points for a refreshing grapefruit wedge!
If you want to mix the best summer drinks all in one, may we present to you the Aperol Spritz Sangria? You might already love the fruity wine mix that is the classic Spanish sangria, so indulge just a little further by nixing the wine in favor of Prosecco, and adding some Aperol, too. A mix of orange and grapefruit juice gives it the proper amount of bite (via My Modern Cookery).
Caramel Tinted Life's Aperol Spritz recipe also calls for a twist from Spain, adding Spanish sparkling cava to the mix instead of Prosecco. If you want an Aperol Spritz that gives off "Sex and the City" cosmopolitan vibes, then add some gin and lemon to it instead (via The Fit Peach). Now, go forth and try new things this summer, including, perhaps, yellow lipstick and new drinks. Cheers!