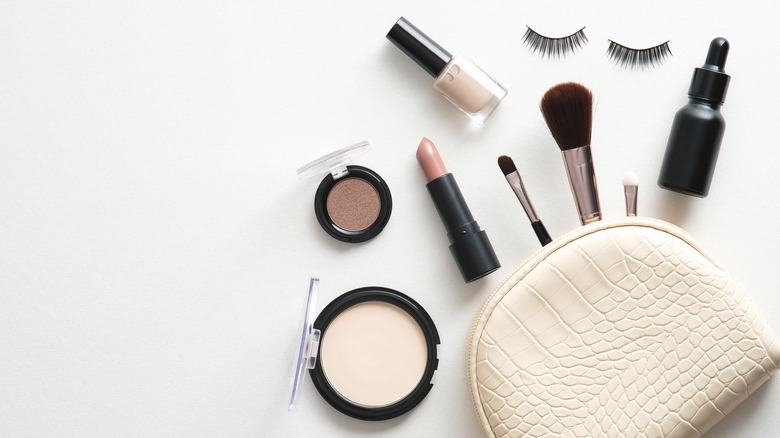 We may receive a commission on purchases made from links.
The best makeup bag for travel really depends on your travel style. Are you a packing minimalist and only bring the bare essentials? Then a small and lightweight makeup bag is the right pick. Or maybe you want to bring the comforts of home, with the tools for your full glam beat, 12-step skincare routine, and all. In that case, a big bag with built-in organization might be ideal.
The right makeup bag will store everything you need and keep it organized at the same time. But since "everything you need" is different for every traveler, we've rounded up 25 of the best makeup bags for travel, from small and compact to large and spacious. These travel-friendly makeup bags are full of features that make them perfect for the on-the-go, like well-designed organization compartments, convenient hanging loops, mess- and water-resistant materials, and attention to style. Now, let's get into 25 top makeup bags for any type of traveler or trip.
How we selected the travel-friendly makeup bags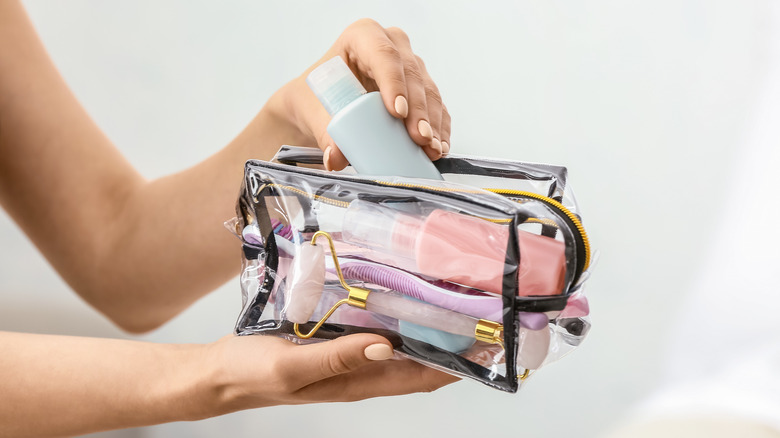 When choosing the best travel-friendly makeup bags, we considered a few key criteria. We looked at a wide variety of bags, selecting a range of types, from little to big and everything in between. To narrow down the top options, we considered each makeup bag's reviews, brand reputation, design features, and materials. We chose well-rated makeup bags, studying shopper reviews to make sure each bag lives up to its claims. We prioritized bags from reputable brands, though we also paid mind to cost, so we chose a few budget-friendly picks from lesser-known brands as well.
The design features we reviewed included storage space, organization compartments, and any handy features like a see-through design, fold-out sections, or a hanging loop. Some makeup bags made it on our list because of their convenient extras, which could include built-in mirrors, jewelry holders, or removable brush organizers. We also considered the bag's materials, choosing options that are sturdy and easy to clean. Lastly, it just feels nice to have a really cute makeup bag, so we paid attention to the overall style.
Best overall makeup bag for travel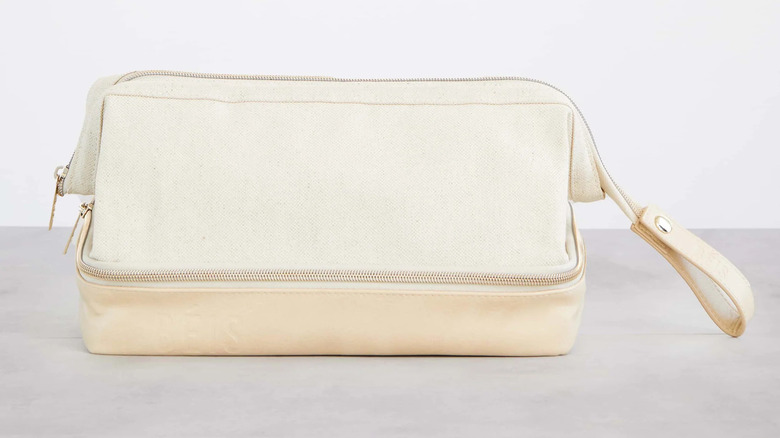 Roomy and oh-so-practical, the Béis The Dopp Kit is the perfect travel companion. It's on the larger side for a makeup bag and has two compartments. A large main compartment stores the bulk of your goodies and features a dedicated toothbrush pouch. The smaller bottom compartment is ideal for holding makeup brushes, palettes, or mini toiletry bottles, especially since it's water-resistant and easy to clean.
No counter space? No problem! This bag also has a hanging loop. And since it's made of canvas, it's both flexible and durable, so it's a no-brainer to stuff in your bag for any trip.
Purchase The Dopp Kit at Béis for $48.
Best budget makeup bag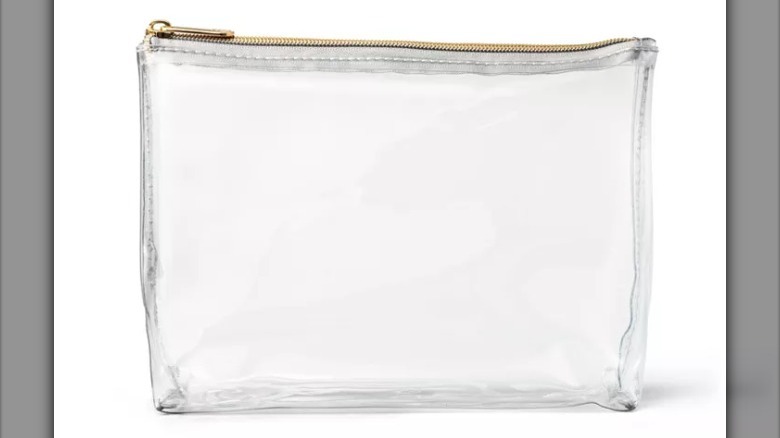 Traveling can be expensive enough as it is, so sometimes there just isn't room in the budget for a pricey makeup bag. In that case, this affordable bag from Sonia Kushak is the right pick. It's made of plastic and is clear, which means it's both a breeze to clean and keeps everything in easy view.
In fact, since it's small and clear, it can even go through most TSA checks without a problem. As one Target reviewer notes, "I bought this for vacation to put all my toiletry items in. I've used it twice in my carry-on and TSA has never said it's too big."
Purchase the Sonia Kashuk Square Clutch Makeup Bag at Target for $9.99.
Best for carry-on travel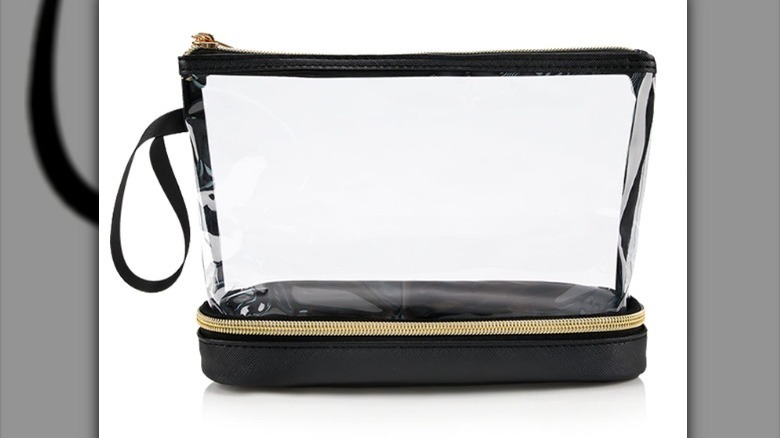 The Ethereal Clear Makeup Bag is another TSA-friendly choice, but it has an extra handy pocket. This makeup bag has a transparent top pouch for liquid products and other makeup. A bottom compartment features two pouches to hold your makeup brushes or other accessories. One Amazon reviewer of this affordable bag shared, "[I] love this makeup bag for traveling. [It's] easy to see [and] find items in the bag and the bottom portion is perfect for makeup brushes."
Purchase the Ethereal Clear Makeup Bag on Amazon for $11.99.
Best for weekend trips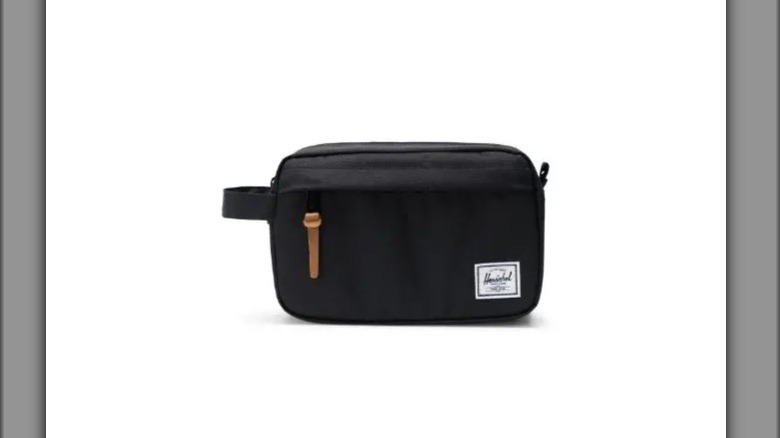 For short weekend trips, sometimes you just want to throw everything into a bag and go. The Herschel Chapter Travel Kit is great for this purpose with its roomy main compartment. In terms of organization, it has an internal mesh storage sleeve and a small zippered front pocket. Its medium size and boxy design are perfect for squeezing in a few makeup products for a short getaway. A carry handle truly makes this a toss-and-go bag. It comes in a wide variety of fun colors and patterns as well.
Purchase the Herschel Chapter Travel Kit at Herschel for $38.
Best hanging bag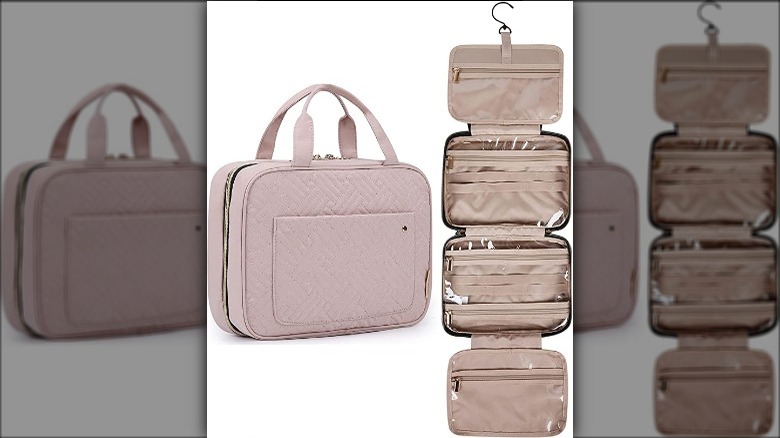 This hanging toiletry bag from Bagsmart eliminates the need to rummage through the depths of your makeup bag. This case has a convenient hanging hook: just hang it on a towel hook or doorknob, and it opens up into four sections. This large makeup bag is stellar in terms of space and organization, as one Amazon reviewer said, "[It] holds everything I need and much more. It's sturdy and is a perfect length for hotel hooks in bathrooms... It helps me stay organized with my makeup and toiletries."
Purchase the Bagsmart Travel Bag with Hanging Hook on Amazon for about $23.
Best small bag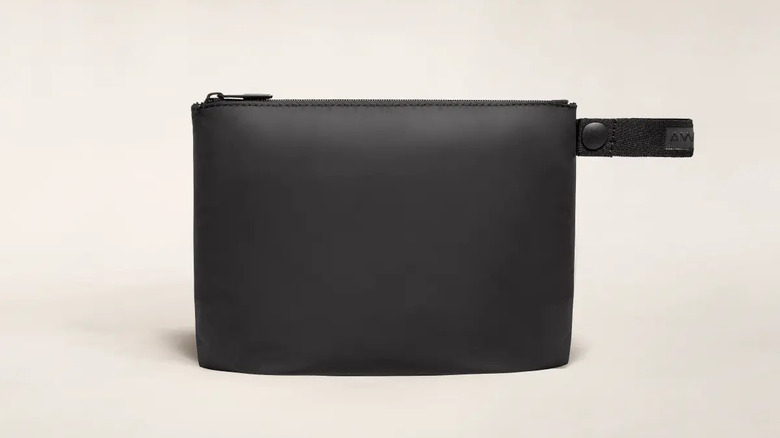 With a no-frills design and simple look, the Away The Organizational Pouch is the perfect small pouch for a range of travel needs, including carrying makeup. It's made of nylon so it's water-resistant. The thin nylon material is super flexible, so you can fill it part way and squeeze it into your bag. It has a snap feature to attach to an exterior bag loop as well.
Purchase the Away The Organizational Pouch at Away for $20.
Best for full-sized products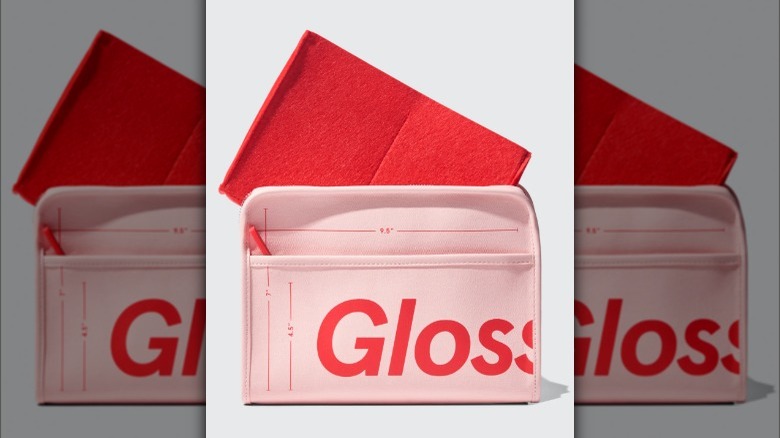 With a tall and boxy design, the Glossier The Beauty Bag is designed to be a catch-all bag for your makeup products and toiletries. Its 7-inch height will fit most full-size products upright (which means fewer spills). The removable interior organizer pouch has four small pockets to keep items in place. A zippered front pocket has space for the items you want to keep in easy reach, like your tweezers or lip gloss. A reviewer on the Glossier website mentions that it's "sturdy and roomy... [and] it holds all I need and it keeps its shape so products don't pile on top of each other."
Purchase the Glossier The Beauty Bag at Glossier for $35.
Best for makeup and jewelry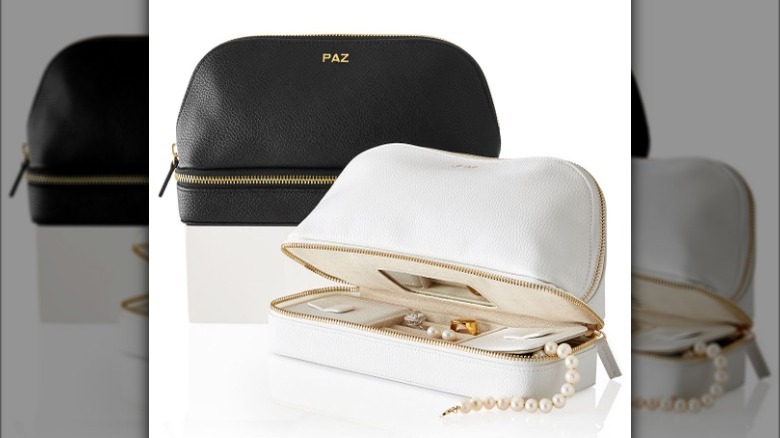 The Mark & Graham Dual Travel Organizer just makes sense: it organizes both your makeup and your jewelry in one nifty bag. The top section is a zippered pouch for makeup while the bottom section is more akin to a small jewelry box. The jewelry section features a spot to put your earrings and two small compartments to separate jewelry pieces. This makeup bag is made from lush vegan leather so it looks beautiful too. If you want to add a personal touch, Mark & Graham will monogram the bag for a small extra charge.
Purchase the Dual Travel Organizer at Mark & Graham for $99.
Best with built-in mirror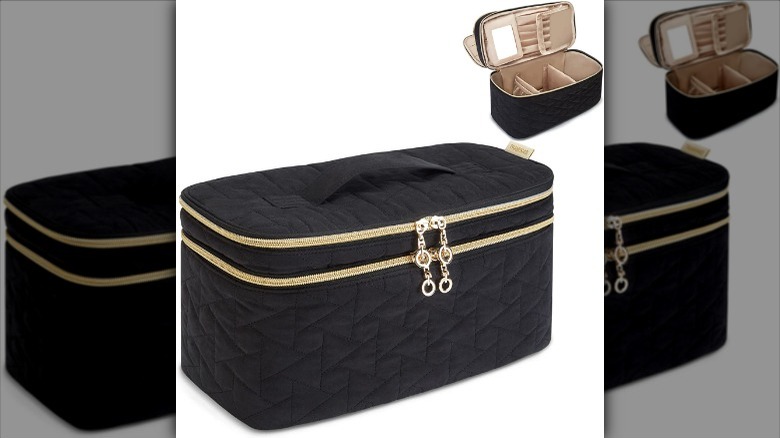 A makeup bag with a built-in mirror is useful for doing your makeup on the go or when it's hard to get in front of a mirror, like in a busy hostel room. The Bagsmart Large Makeup Bag Organizer has a mirror attached to the inside of the lid, so you can lean the lid against a surface and peek in the mirror hands-free. Inside, it's spacious and has several organizer compartments. As an Amazon reviewer said, "I love that it has dividers so I can stay organized, slots for your makeup brushes, and even a mirror! It's got all the bells and whistles."
Purchase the Bagsmart Large Makeup Bag Organizer on Amazon for $22.99.
Best bag with an adjustable organizer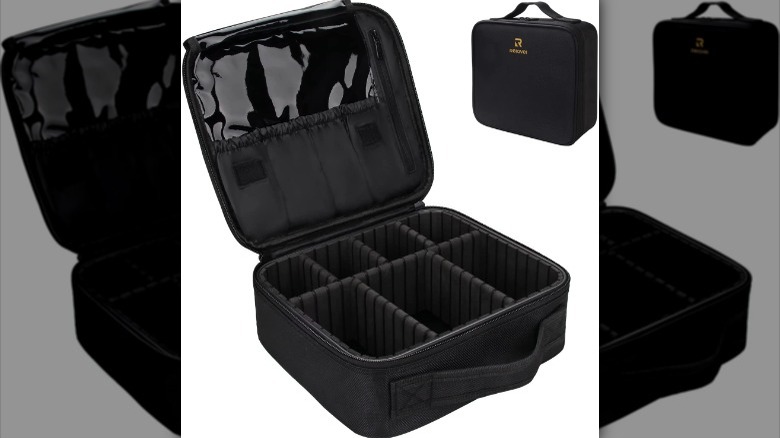 With an adjustable organizer system, the Relavel Travel Makeup Train Case gives you plenty of options to keep your makeup protected. The interlocking dividers can be configured in several different ways to create smaller compartments for makeup or larger ones for skincare bottles and containers.
One Amazon fan wrote, "I love the dividers, [they] keep all my makeup from sliding around during travel. It's durable and protects my palettes from breaking". Beyond the convenient dividers, the inside of this case's lid is also lined with pockets, which are great for storing makeup brushes.
Purchase the Relavel Travel Makeup Train Case on Amazon for $29.99.
Best with packing cubes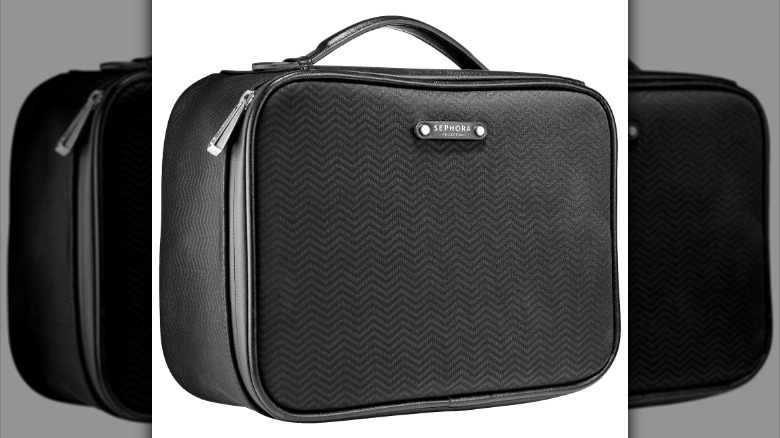 Many travelers swear by packing cubes to keep items organized. If you want to apply the same idea to your makeup bag, the Sephora Collection Pack It All Organizer should be your pick. This makeup bag includes two mesh packing cubes and a flat mesh pouch. They're all removable and zippered, intended for extra organization within the larger bag.
As one reviewer notes, this system "keeps all of my brushes and go-to products organized and the compartments are a perfect size. Extra room allows you to store additional items like palettes underneath." The bag's lid is also lined with loops for makeup brushes, complete with a plastic screen to keep brushes protected.
Purchase the Collection Pack It All Organizer at Sephora for $45.
Best with removable brush storage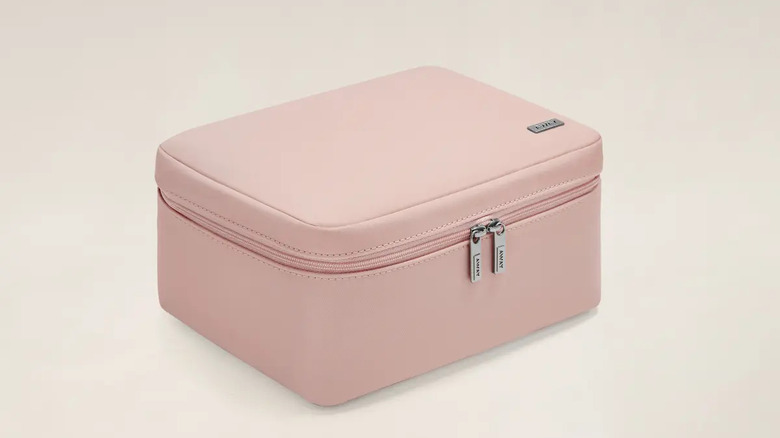 A lot of attention was paid to Away's Cosmetics Bag design. Its organization system is well thought out, with a deep main pocket that has a small pouch inside and a clear zippered cover. The lid of the bag has a detachable brush roll that snaps into place. This brush organizer allows you to carry your brushes separately from the bag, like if you want to use it to store your brushes at home or to carry brushes on a trip with a different makeup bag.
Purchase The Cosmetics Bag at Away for $75.
Best lay-flat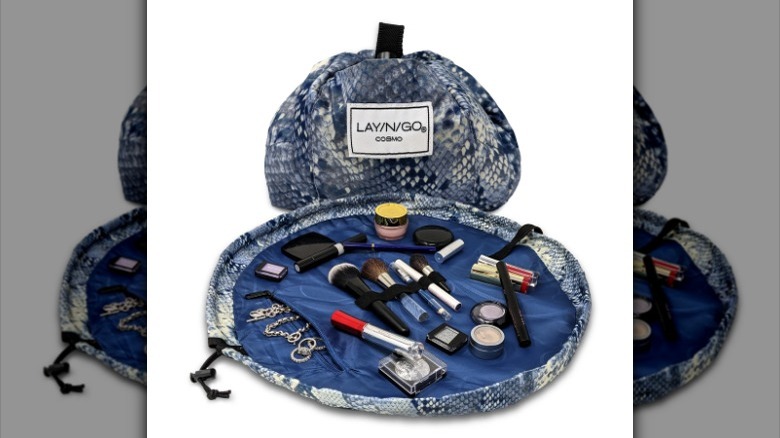 The Lay-n-Go Cosmo makeup bag turns chaos into order. Unlike other bags, which rely on compartments to keep things organized, this one opens completely flat. That's right: there's no need to dump out your entire makeup bag to find your lipstick; just lay the Lay-n-GO flat to see everything in your bag. To keep items from rolling away, it has a raised perimeter. And when it's time to pack up again, it's as easy as pulling the drawstring, which cinches the bag shut.
Purchase the Cosmo at Lay-N-Go for about $30.
Best cinch-top bag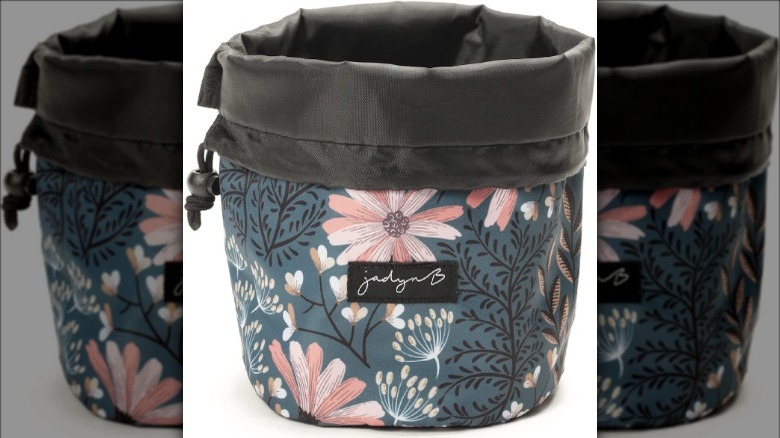 This cinch-top makeup bag from Jadyn B does away with zippers, which can be finicky or difficult for some people to use. It has a drawstring closure instead, which cinches the pouch closed. Though this makeup bag looks simple, it has its fair share of organization features, with seven interior pockets to keep makeup organized and upright. As one Amazon reviewer writes, "[This bag is] perfect for travel and everyday use. It's now my everyday makeup bag because the pockets make it so convenient to store brushes and mascara. It can fit so much in such a compact space."
Purchase the Jadyn B Cinch Top Compact Travel Makeup Bag on Amazon for $14.99.
Best for makeup artists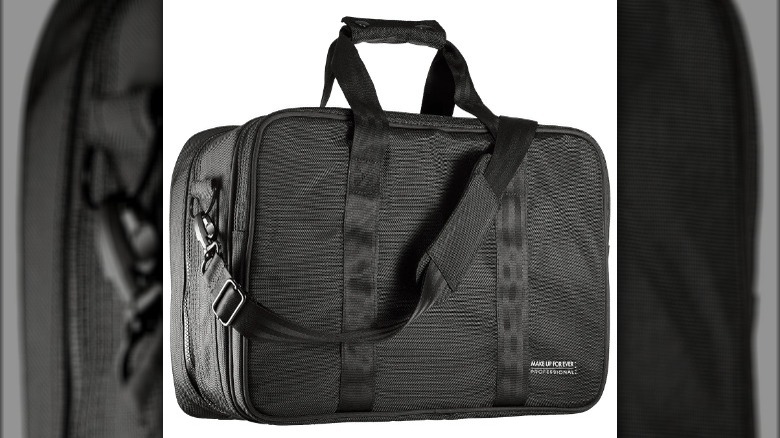 If you're a makeup artist traveling for work — or any makeup lover with a serious collection — the Make Up for Ever Professional Bag should be your professional-grade pick. This makeup bag is designed for makeup artists, with an extra spacious size, three zippered pockets, and several removable mesh pouches. As one Sephora reviewer writes, this bag is "perfect for the girl who wants to bring it all." This makeup bag also has a carrying handle and cross-body strap for lugging your favorite beauty products around.
Purchase the Make Up for Ever Professional Bag at Sephora for $125.
Best vanity case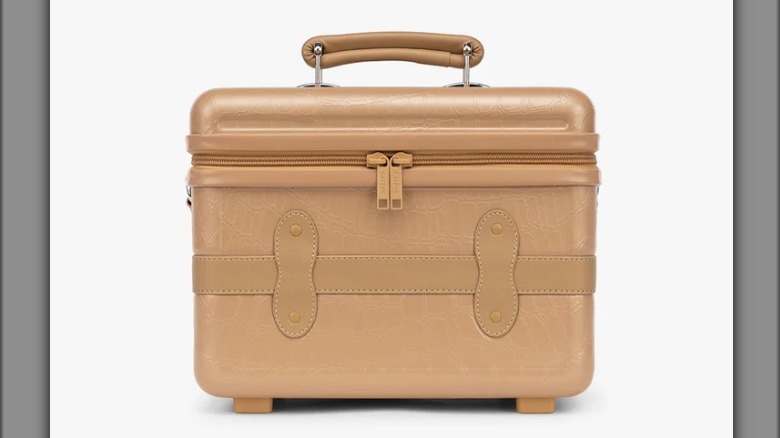 Carry your makeup in its own stylish standalone case with the Trnk Vanity Case from Calpak. This gorgeous case has a water-resistant and protective hard shell design with a few carrying features, including a cushioned top handle, removable shoulder strap, and a luggage trolley sleeve to slide it onto the top of your rolling suitcase. A deep interior with multiple pockets helps keep everything in place. As one fan notes, "I love this vanity case because while it is hard-sided, it is also very lightweight and has a shoulder strap [and] a luggage sleeve for travel."
Purchase the Trnk Vanity Case at Calpak for $105.
Best sustainable bag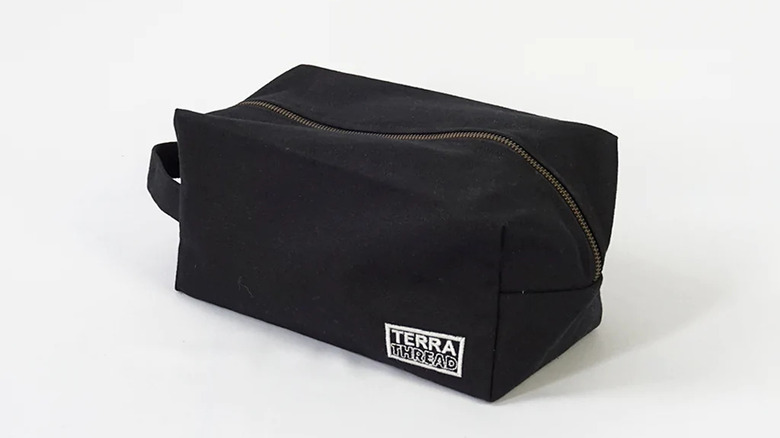 This makeup bag from Terra Thread is made with sustainability and longevity in mind (after all, a sustainable bag is one that lasts). It's made from Fairtrade organic cotton, an eco-friendly material option, and put together in a Fair Trade Certified factory. The thick heavy-duty cotton paired with YKK zippers is made to last. As one reviewer notes, there's beauty in this bag's basic design, writing, "I love simple, elegant products and this bag is exactly that. All my makeup fits in it and it's perfect for travel."
Purchase the Sustainable Toiletry Bag at Terra Thread for $19.95.
Best clear bag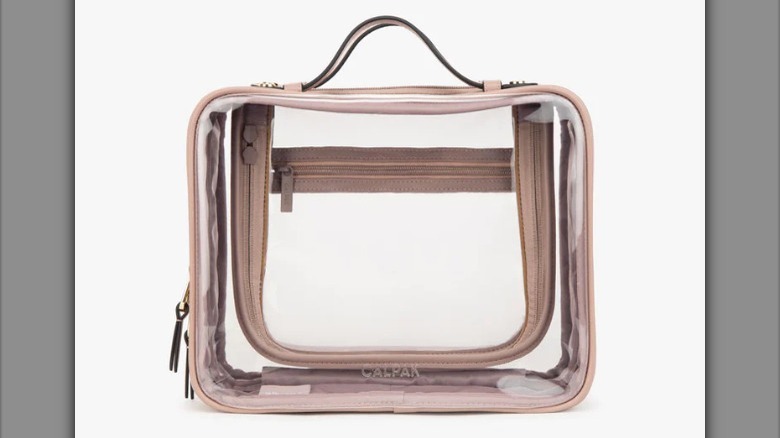 Clear all the way through, this makeup bag is made for travelers who want to see what's in their bag at all times. It has two zippered compartments (clear, of course) and a see-through mesh pocket. There's no more rummaging for items in this bag, as you can see everything you need from the outside. As a bonus, since it's made of plastic, it's also water-resistant and easy to clean. One reviewer said this bag is "sturdy enough to handle rough travel, clear material for making TSA a breeze, [and has] multiple compartments to prevent major damage in the event of a spill or break."
Purchase the Clear Cosmetics Case at Calpak for $95.
Best for bottles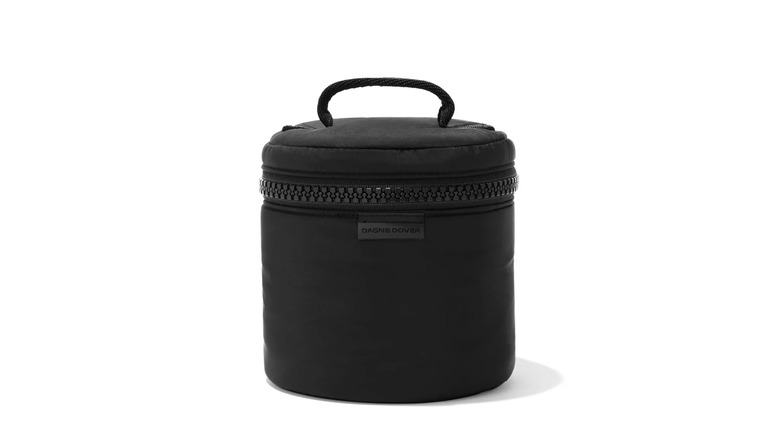 If you have a lot of liquid products in your makeup routine, this makeup organizer is your best bet. It keeps products right side up to help prevent annoying makeup bag spills while traveling. A cylindrical design, removable and adjustable compartments, and elastic loops give you space to put liquid foundations, blushes, lip products, and more, keeping them all upright. According to one happy reviewer, "the removable sections make it customizable and it can be different each time. The shape and style is different [from] anything I've seen and it's really functional. Love it!"
Purchase the Mila Toiletry Organizer at Dagne Dover for $50.
Best machine-washable bag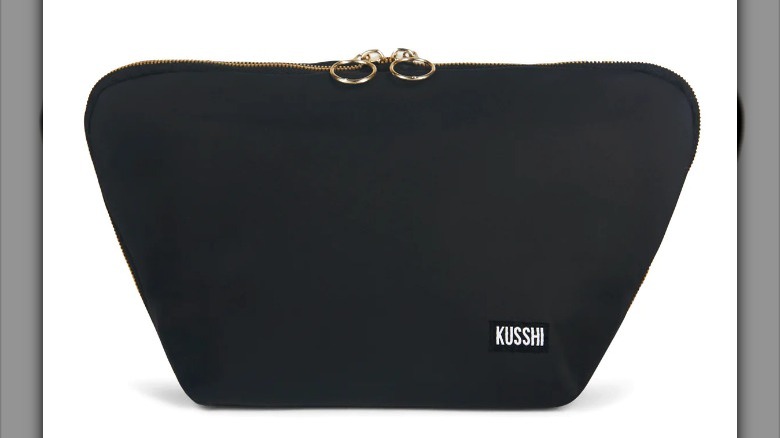 There's no getting around it: makeup bags get dirty. Whether it's spilled foundation or stains picked up from your travels, the Kusshi Vacationer Makeup Bag can handle it all. Cleaning the fabric version of this bag is a breeze since it's machine-washable. The leather version has a machine-washable fabric lining. Kusshi sells this bag in a wide range of neutral and bright colors, so you can find one that suits your style. One reviewer writes, "I love everything about it. The size, the way it has a flat bottom, the zippers, the material, and washability."
Purchase the Vacationer Makeup Bag at Kusshi for $94.
Best makeup bag set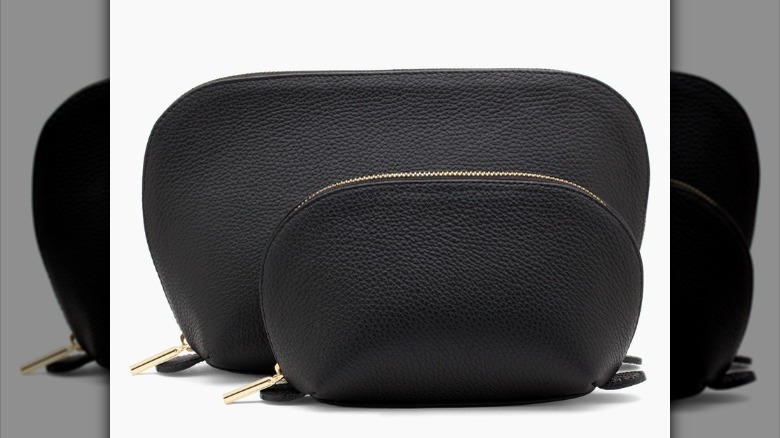 Sometimes, one makeup bag just isn't enough. This makeup bag duo is a luxurious choice for travelers who need more than one makeup case. It comes with two bags: a big one for larger products and toiletries, and a smaller one for other bits and bobs. Each bag is handcrafted in Argentina, and the finished product has a real leather exterior and a microsuede lining. Simplistic but beautiful, this set comes in several elegant colors.
Purchase the Leather Travel Case Set at Cuyana for $128.
Best waterproof bag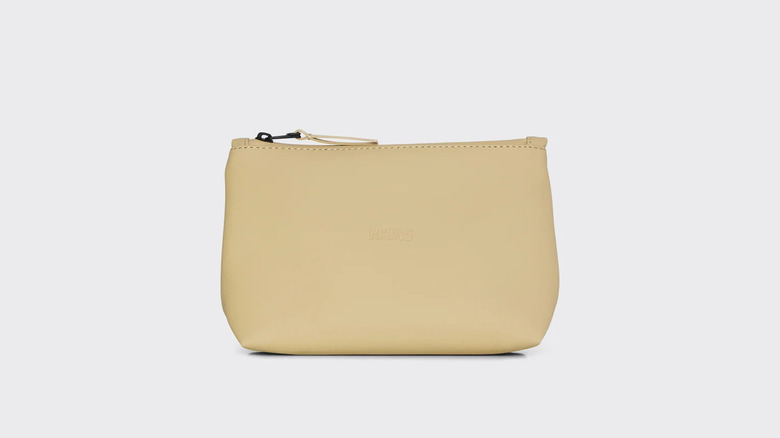 Maybe you're going on an exciting outdoor adventure, or maybe you just hate when your makeup bag gets wet from sitting next to the bathroom sink. Either way, the Rains Cosmetic Bag is the waterproof solution. This makeup bag is made from the brand's signature waterproof fabric. It's the same material as the brand uses in its famous rain jackets, so it's smooth to the touch, looks nice, and is long-lasting. And this bag is stylish, too, with a clean design in a few neutral colors.
Purchase the Cosmetic Bag at Rains for $34.
Best snap-down bag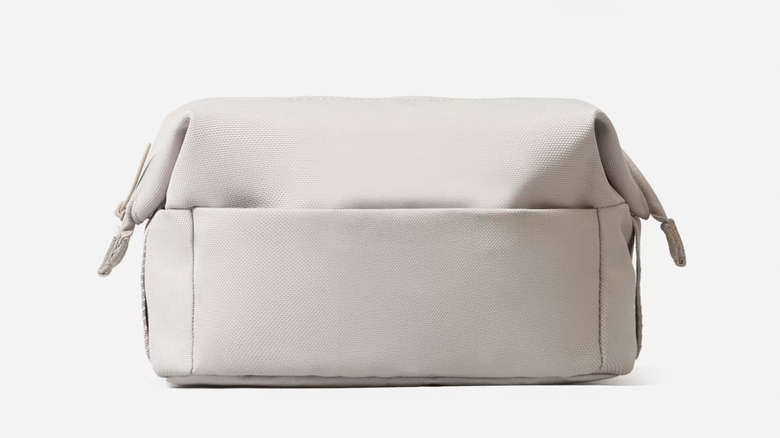 Rummaging through your makeup bag is easier with the Renew Transit Catch-All Case from Everlane. This makeup bag has a convenient snap-down design, where the sides of the bag fold down and snap in place. This makes it simpler to find what you need, but without sacrificing bag space. As one happy reviewer notes, "The hype is real because the pockets and snap feature of this Dopp kit really elevate the functionality. It's so simple but it's perfect."
Purchase The Renew Transit Catch-All Case at Everlane for $35.
Best hard-case option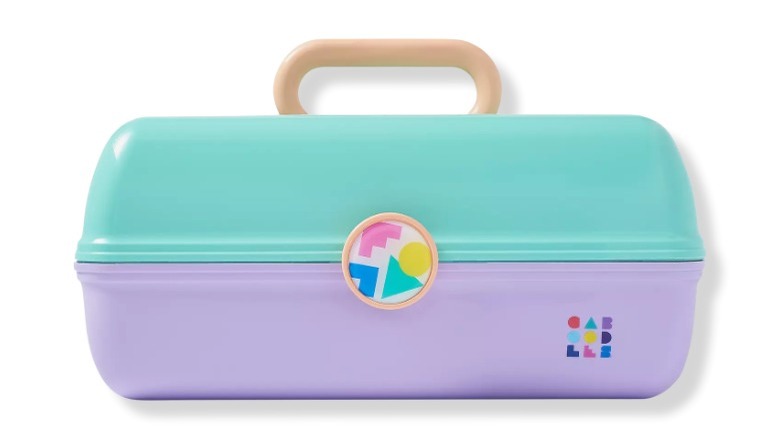 Bring a bit of 90's nostalgia on your trip with the Caboodles On the Go Girl. The major draw of this makeup case is its iconic retro design, with its auto-open tray and flip-up mirror. One Ulta reviewer wrote, "So this totally brought me back to the '90s. I used caboodles to hold everything and wondered how I could use it as an adult. Well, it fits my makeup perfectly!" This reviewer noted how nice it is to have a mirror inside, and we have to agree!
Purchase the Caboodles On the Go Girl at Ulta for $22.99.
Best easy-access bag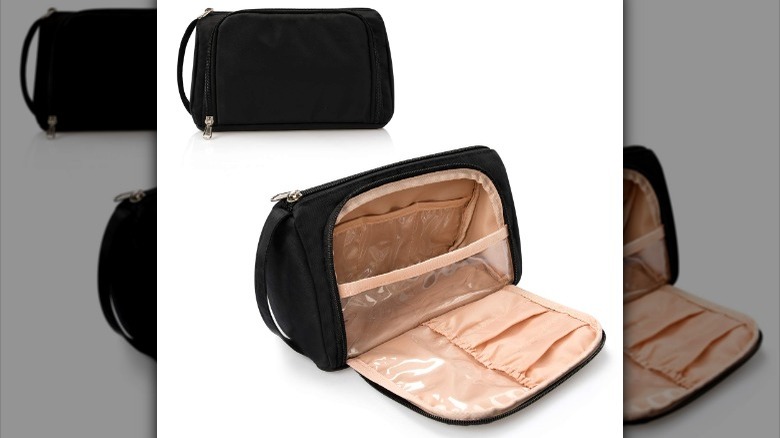 Designed to make your products easier to find, this makeup bag opens two ways. It can open from the top like a typical makeup pouch and from the side, so you can pull out products without all the usual rummaging. As one shopper shared, "I love this bag! Brushes stay organized in the lid, and it's easy to get into all the other essentials from either opening." It also has interior pockets to keep your brushes away from your mascaras from your lippies.
Purchase the Cubetastic Small Makeup Bag on Amazon for $12.99.