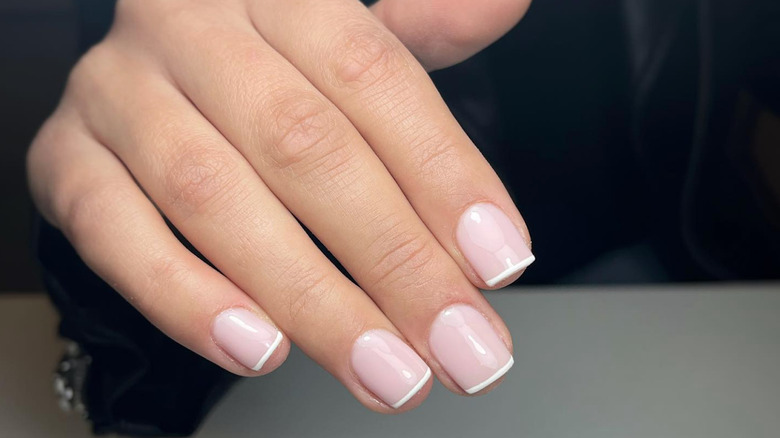 Since shorter nails are back in style this year, the classic French manicure has been updated to reflect the length. "The baby French is a modern take on the traditional French manicure, with the white tip painted as thinly as possible, while also being slightly tapered down the side of the nail," manicurist Harriet Westmoreland tells Vogue. "It is so versatile and flattering, as you can tailor the look to elongate your nail bed. My clients never just have a baby French once; they choose it time after time. It's low maintenance, very wearable, and because of the natural base, you can also go longer between appointments."
While you can go the natural route and opt for a nude base with a thin white tip, the baby French doesn't end there. Bold colors and unique styles also exist within this trend, which makes it very versatile. The baby French manicure is a great look for spring — and if you're unsure just what kind you should get, we've gathered plenty of options to inspire you!
The classic white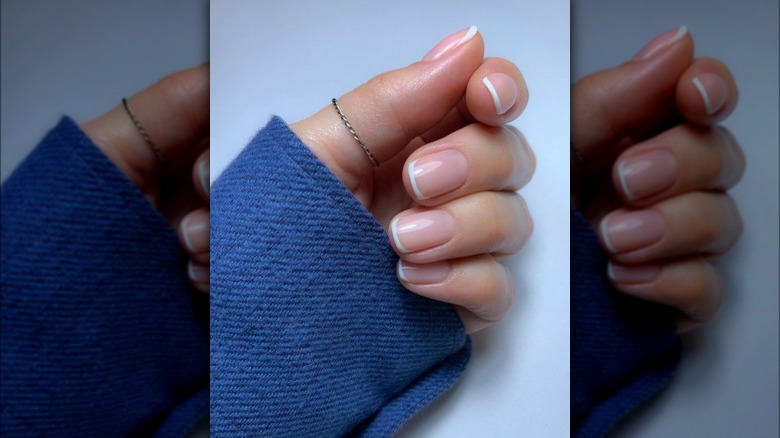 Even though there is nothing classic about this nail trend, the most common way to approach it is to do super skinny white tips. For this look, it's best to opt for a classic neutral base that matches your nail bed as closely as possible. With nails like these, people will definitely find themselves doing a double take — the thin French is so delicate, it's almost undetectable.
The pastel green + pink combo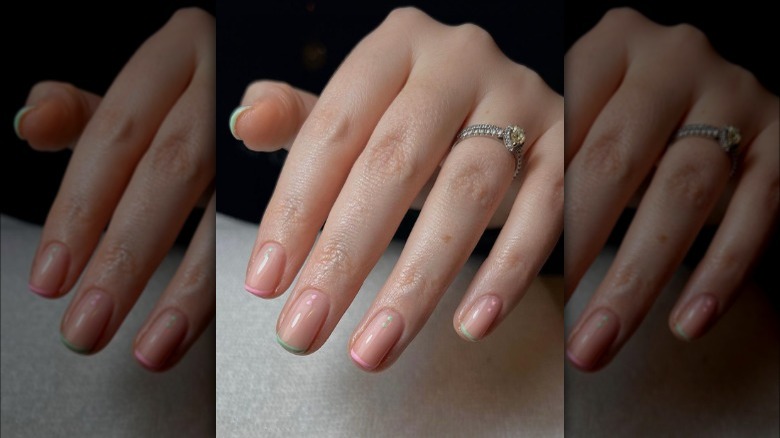 Muted pastel green and pink are two colors that perfectly complement each other, making them a perfect combination for nails. To add a bit more pizzazz to the thin French tip, consider adding two dots of the opposite color close to the cuticle of your nails. Since the lines and dots are thin and in muted colors, this nail design won't clash with anything, which makes it the perfect neutral pop of color!
The golden-dipped tips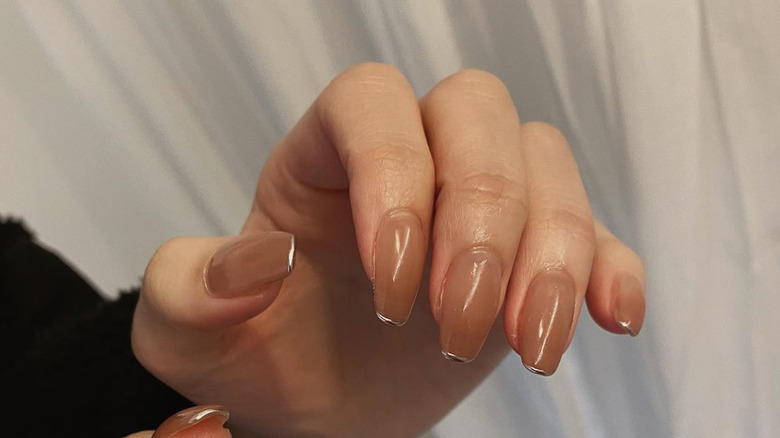 Even though this nail trend looks particularly good on shorter nails, that doesn't mean you can't rock it if you have longer ones. However, in that case, we recommend an opaque base color so that the actual tip of your nail is blended with the nail bed. A fun way to do this trend on long nails is to create thin gold French tips — it will almost seem as if you dipped your nails in the color. And since metallics are a huge trend for 2023, this is a great way to explore that trend as well!
The rainbow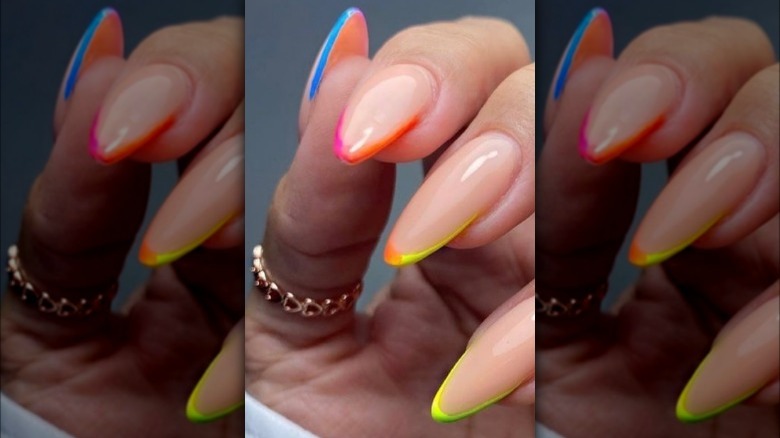 If a baby French tip in just one color seems too boring, a rainbow one might be appealing. You can pick any colors you like to recreate this look, but it is definitely more eye-catching if you go for super vibrant ones! If you're creating the tips yourself, apply the two different-colored lines and then blend them gently with a q-tip. So yes, you need to work quickly, since you don't want the lines to dry before blending them.
The skinny dark green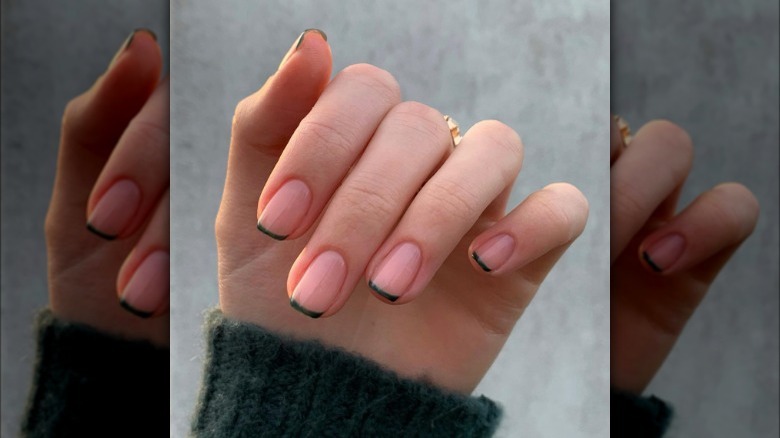 Black is always trendy, but a slightly more unique choice would be to opt for a super dark blue, purple, or green. Pick a color that at first glance looks like black — but the more you look at it, the more you'll notice its actual shade, particularly in sunlight.
The double line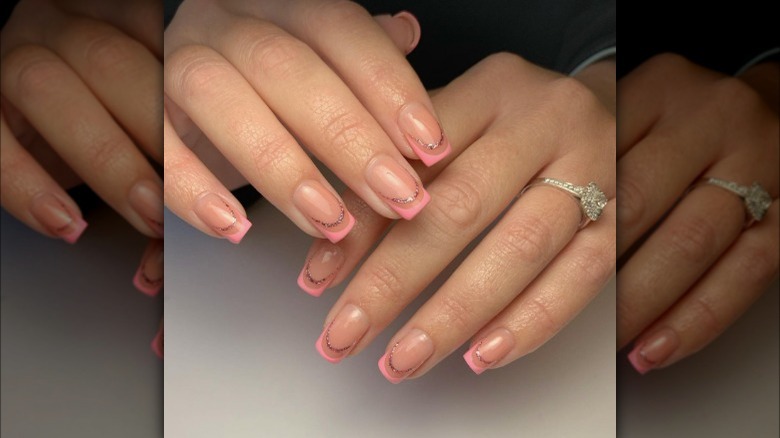 If you want to spice the traditional baby French tip up, doing two lines is a great way — particularly if you do them in two different nail polish shades. As seen above, this trend looks very intricate if the actual tip is in a pastel color and a thin parallel line in a glittery shade is drawn just underneath it!
The ultimate glitter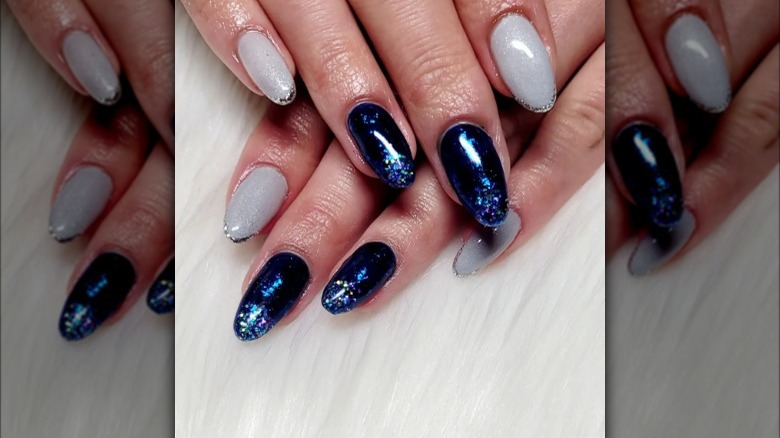 Those who don't like how delicate and subtle this nail trend is can explore adding it as an extra detail to their usual nails. The baby French tip looks excellent over any nail polish color as an accent. And if you love glitter and metallics, it's a great way to add even more to your usual nail polish choice!
The spring-inspired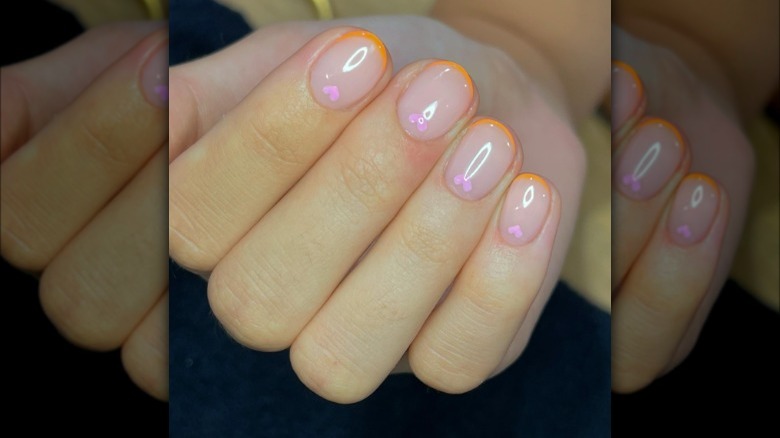 With spring just around the corner, pastel colors are back in trend — especially for nail designs. Orange and pink are always a safe choice, and they look incredibly cute with a baby French tip. If you don't want to have just a simple tip, add a tiny heart or flower to the base of your nail!
The light pink with stars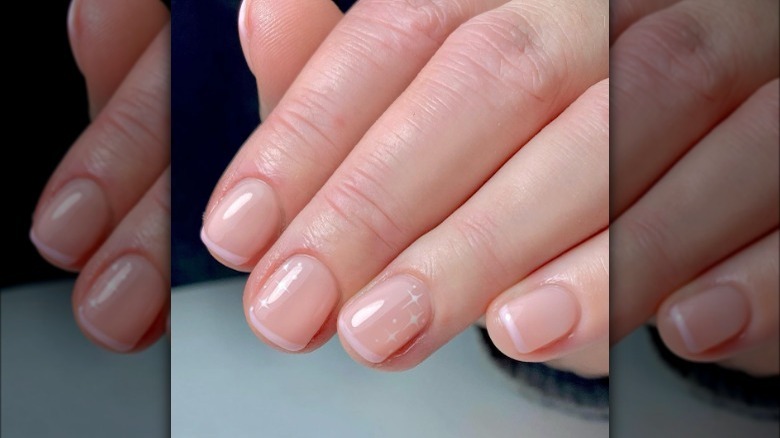 Picking a light pink for the baby French tip will make your nails super subtle, which makes this color great for anyone who isn't sure just yet how they feel about this trend. Adding a couple of stars to one or two accent nails will pull the whole look together!
The dots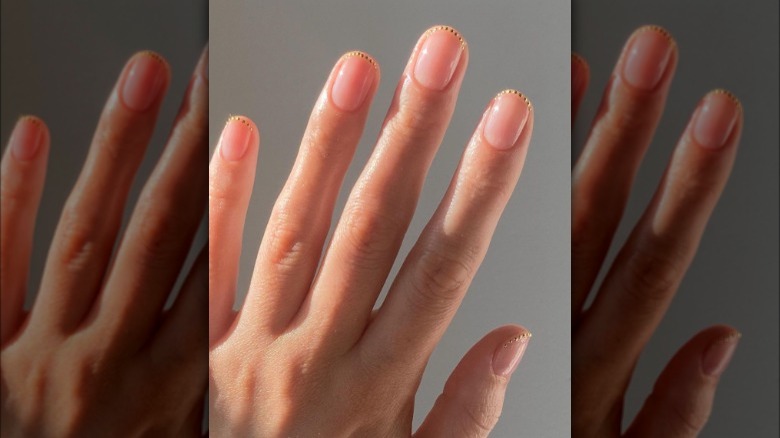 Just because a French tip is usually a line doesn't mean you have to follow that rule. A dotted baby French tip looks complex, but in reality, it actually doesn't take much longer than creating a line — if you have the right tools. Using a toothpick or super thin brush will work if you attempt to recreate this style at home.
The vibrant blue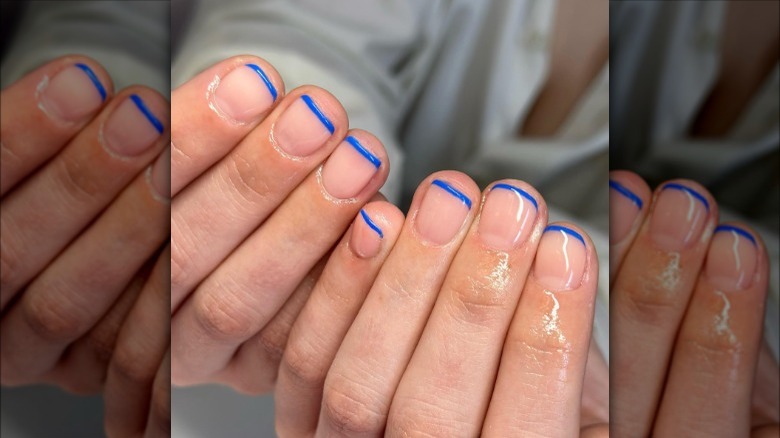 A cobalt blue looks great with any skin tone, and it definitely adds a pop of unexpected color. If you love this trend and want to go bold with it — this shade is a perfect choice. You can opt to do it on a natural base, or if you're feeling extra brave, combine it with a baby blue base.
The baby French + outline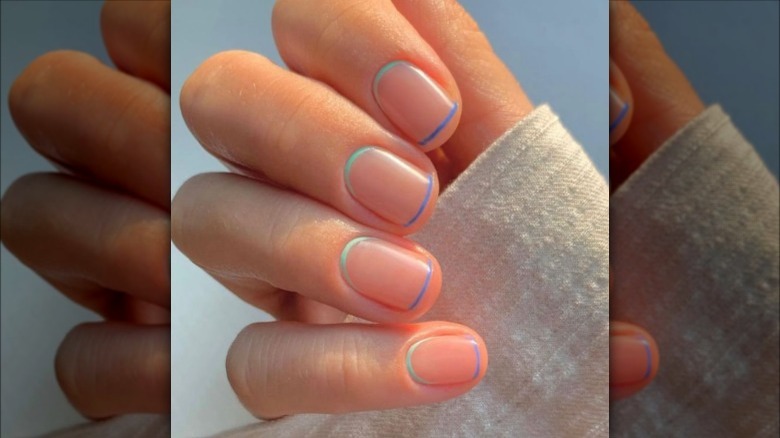 Creating a nail outline has been a trend for years, and the baby French tip is technically a part of it. However, if you want to spice things up, do a nail outline without connecting the side, as seen in the photo above. While you can do the cuticle and the tip line in the same color, opting for two different ones is way more fun!
The metallic on glitter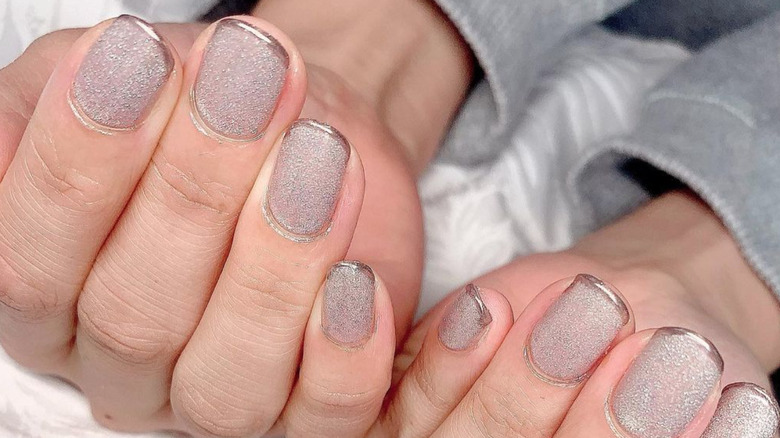 A metallic tip looks great no matter what — especially as it appears as if you dipped your nails into liquid gold or silver. Creating a super skinny French tip in a metallic shade on top of a glitter base is as dramatic as sparkly nails can get.
The silver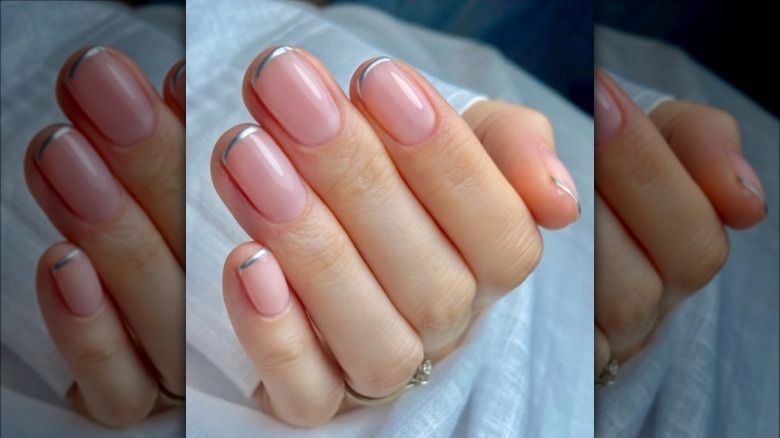 If doing metallic on top of glitter is too busy for you, and if you prefer minimalist nails more, do the metallic baby French tip on a nude nail base. This looks particularly cool if you match the metallic shade to the kind of rings you like to wear, meaning that if you're a silver girlie, opt for silver tips.
The white with an accent nail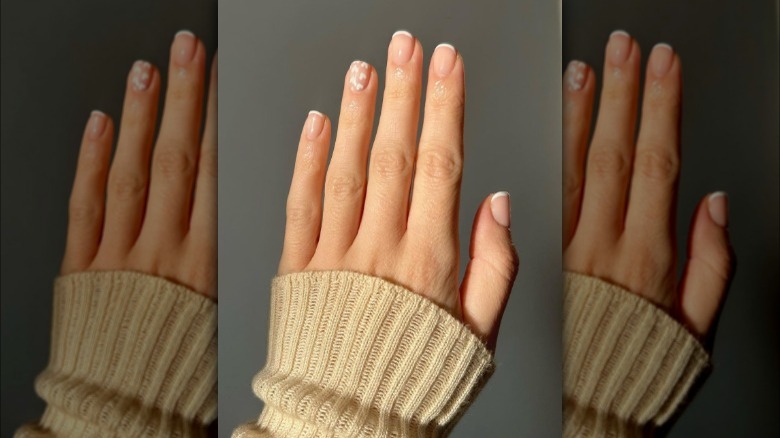 Since the classic white tips are the most basic choice — not to say that anything is wrong with that — you might want to spice them up with an accent nail. We would recommend keeping the base nude on the accent nail as well, and opting for a small design on it such as dots, flowers, or hearts.
The skinny black + dots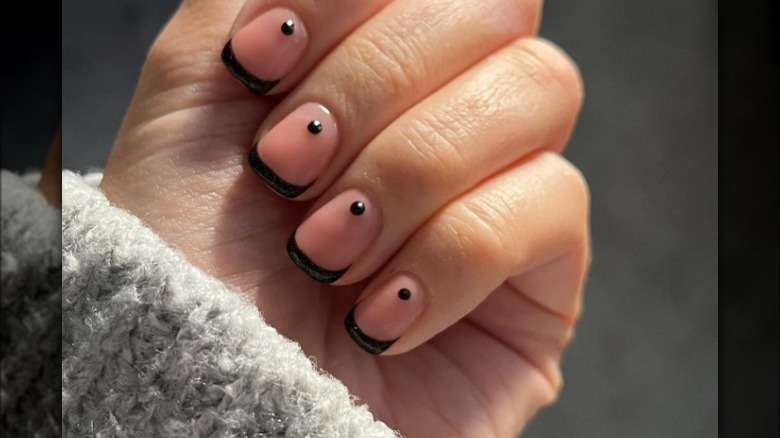 A black tip will never not be edgy, which makes it the perfect choice for those looking for more of a rocker glam or punk chic vibe. To make things even more interesting, add a black dot to the base of your nail. This design is super simple, but it looks very dramatic.
The green glitter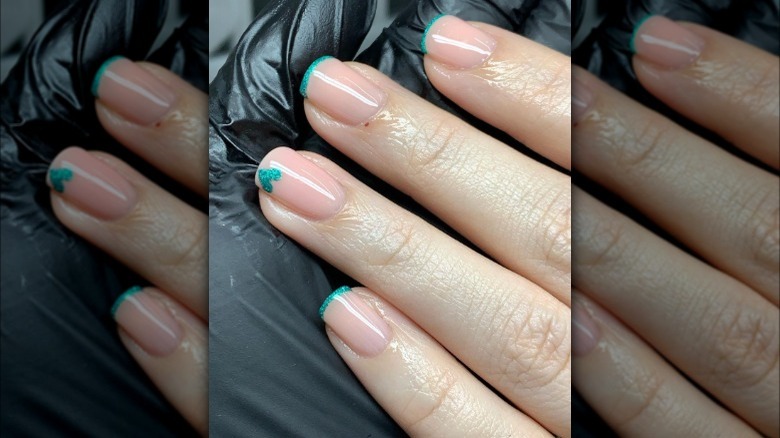 Glitter nails can sometimes be overwhelming, which is why plenty feel like they can't rock it on an everyday basis. If you love the look of glitter nails but only choose them for specific events, baby French tips are a great way to delicately rock them all day long.
The neon yellow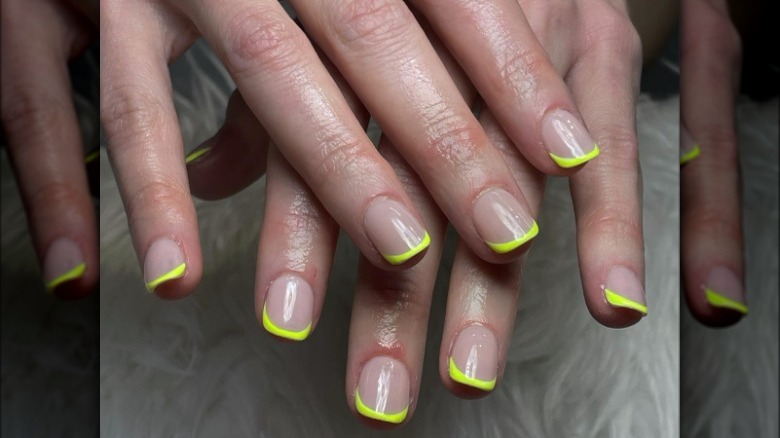 Speaking of bold nail color choices, nothing is more eye-catching than a bright neon tone. Doing your nails in a neon shade can easily be overwhelming, but doing baby French tips in it is a great way to add a pop of neon to your look. Not to mention that neons are always on trend for the warmer days.
The black on red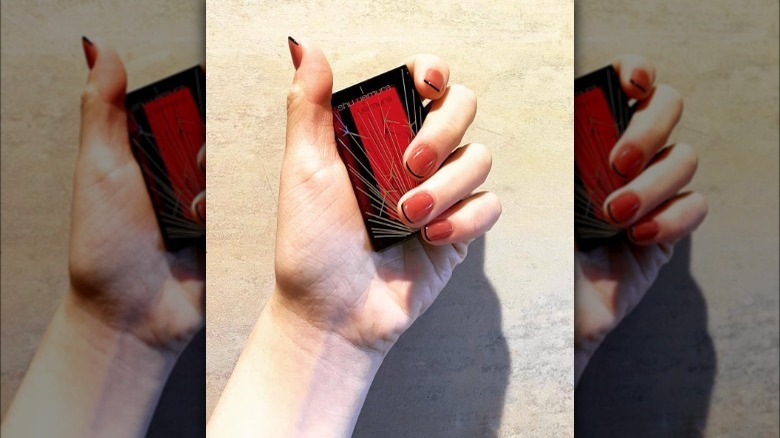 If you're going for a dramatic and vampy vibe, do an ultra-thin French tip on a classic red nail. This style is definitely unexpected, and it's a fun way to spice up the traditional, glamorous red nails. Opt for a darker deep red shade if you want less contrast between the tip and the base.
The blue with gems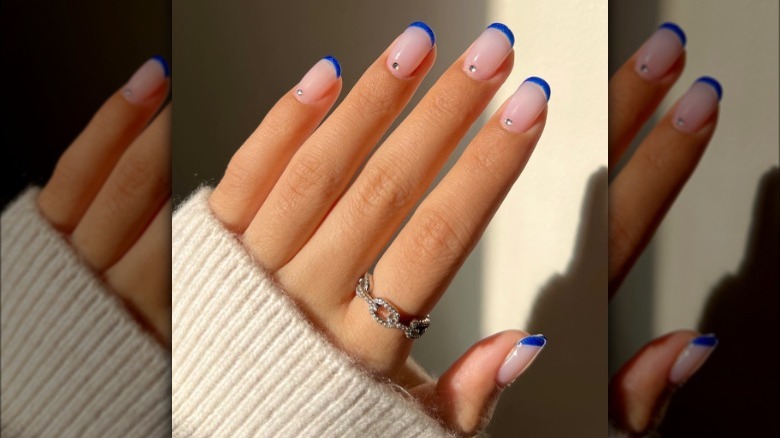 A baby French tip in a fun color is bold enough, but if you feel like your nails could do with a bit more detail, add some nail gems to the nail base. You can opt to add them just to one or two accent nails, or even all of them.
The mixed pastels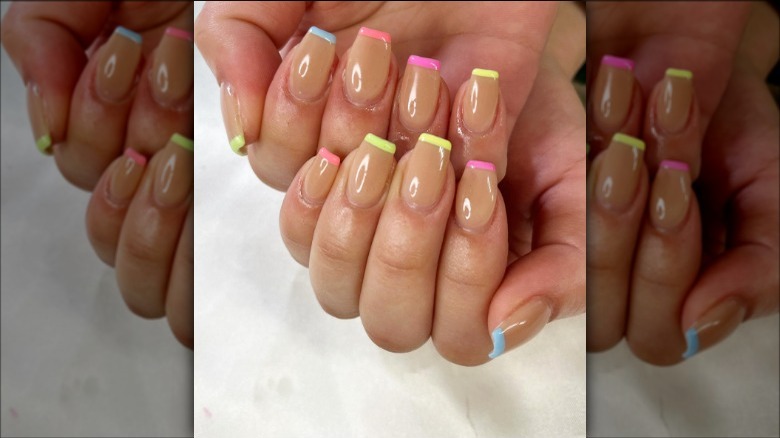 Since pastels are synonymous with spring, doing baby French tips in rainbow pastel shades is the best way to welcome the warmer weather. Pink, blue, and yellow are the most common choices, but green, purple, and orange are also fun options! Pick a combination you like and go for it — your nails will be on-trend and ultra cute.
The pink with hearts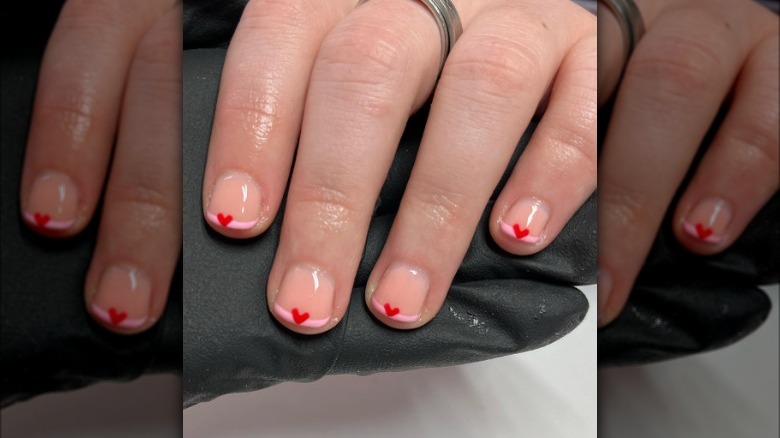 A baby pink skinny French tip is great, but a baby pink skinny French tip with a red heart on top of it is even better. Just because Valentine's Day is behind us doesn't mean you can't rock pink and red with hearts. However, if this design is too Valentine's Day-esque for you, just pick different colors, and do a flower instead of the heart.
The tip outline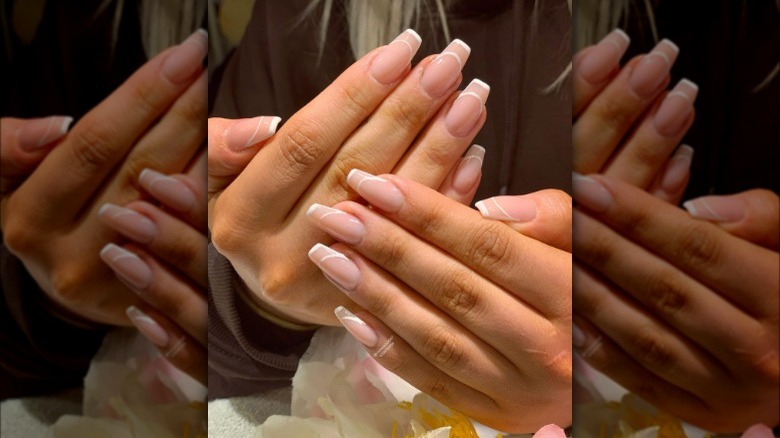 The baby French tip looks great on short nails, but if you aren't a fan of it on long nails, give us a chance to change your mind. A fun way to do the thin tip is to outline a thick tip, as seen in the pic above. This way, your long tip is still the center of attention, but you're technically rocking a baby French tip.
The inverted accent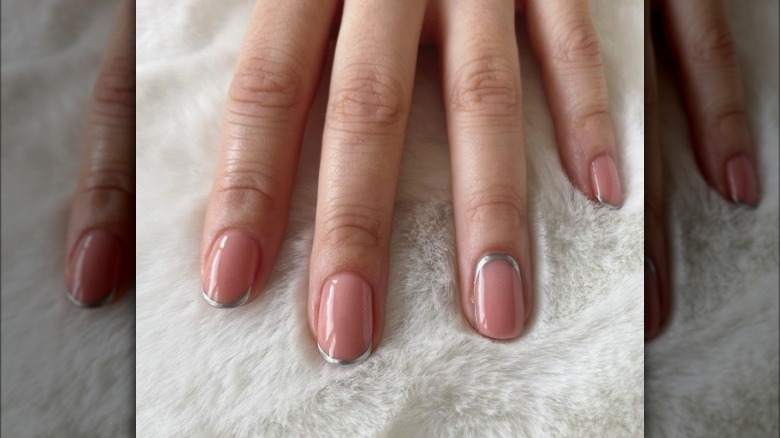 Those who love being unpredictable will love this inverted baby French tip style. Do a normal baby French tip on most of your nails, and pick an accent nail that will have just the inverted tip — meaning the cuticle of your nail will be outlined instead of the tip. (This looks great with any nail polish color, but we always vote for a metallic one!)
The hot pink square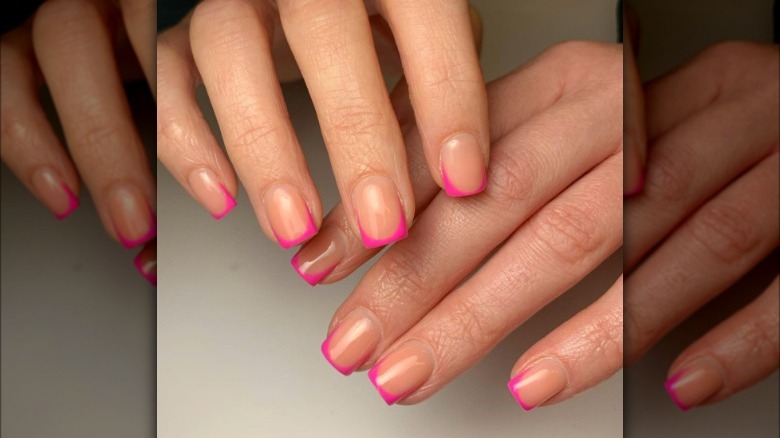 2023 is all about hot pink, especially with Greta Gerwig's highly anticipated "Barbie" movie coming out this year. A hot pink baby French tip is fun and bold, especially if you opt for a square nail shape with tips extended down the sides of your nail bed.