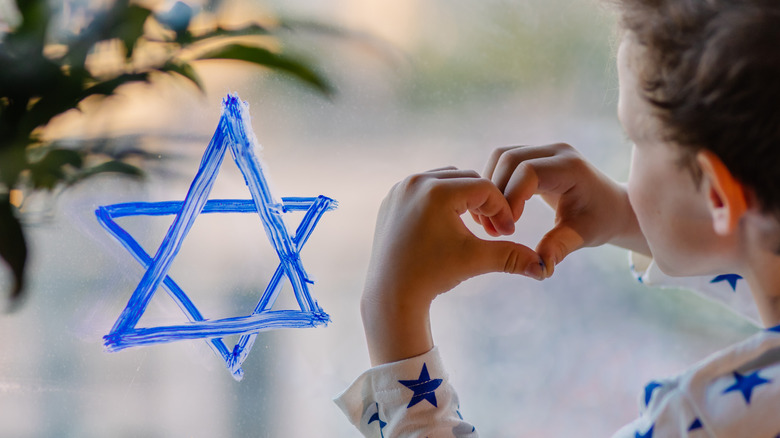 With many instances of antisemitism making the news in 2022, including statements that have been made by public figures on their social media platforms, it's clear that open discrimination against the Jewish community is on the rise, per NPR. Vlad Khaykin of the Anti-Defamation League commented on this rise in antisemitism to CNN in October 2022, saying, "It breeds conspiracy theories that distort our ability to make informed decisions, which are central to any democracy."
A non-legal definition of antisemitism was adopted by the International Holocaust Remembrance Alliance (IHRA) in 2016, as noted by the U.S. Department of State. This definition is now in use by the government of the United States as well as the other governments who are members of the IHRA: "Antisemitism is a certain perception of Jews, which may be expressed as hatred toward Jews. Rhetorical and physical manifestations of antisemitism are directed toward Jewish or non-Jewish individuals and/or their property, toward Jewish community institutions and religious facilities."
If you're looking for ways to show your support for the Jewish community and stand against antisemitism as a non-Jewish person, we've rounded up some key tips to help you get started.
Learn more about Judaism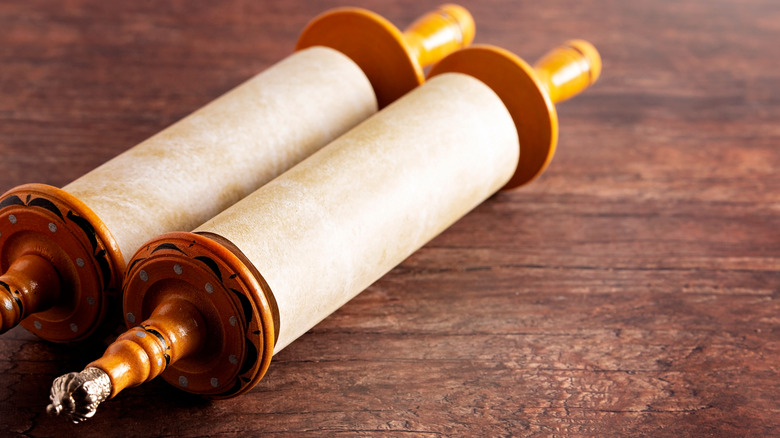 The first step in supporting the Jewish community is to educate yourself about Judaism. If you aren't already familiar with Judaism, there are many online resources to learn more about it. One such resource, although geared toward high school and college students, is Khan Academy's unit on Judaism.
Keep in mind that there are many topics involved in Judaism, and not everyone who identifies as Jewish follows all the beliefs associated with the religion, such as its dietary laws. Per the Pew Research Center, many Jewish people in the United States focus more on their cultural ties to Judaism than their religious ones, but some groups — such as Orthodox Jews — may be more religious than others.
Moreover, Judaism 101 points out that there are a variety of views on what Judaism is and who is considered to be Jewish, and these are likely to differ in some ways depending on who you ask.
Learn more about the history of antisemitism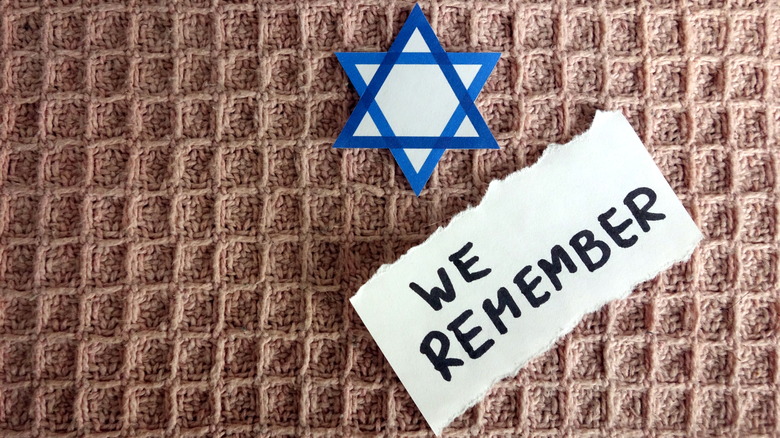 Beyond learning about Judaism itself, it's also important to educate yourself on the history of antisemitism and the discrimination that has affected Jewish communities over time. Facing History & Ourselves has one lesson on antisemitism geared toward teaching students in grades six through eight that also includes further reading for instructors. The International Holocaust Remembrance Alliance also has a number of resources available on its website about the Holocaust and the dangers of Holocaust denialism and distortion that are geared toward various audiences, from teachers to members of the media.
As noted by The Associated, antisemitism did not end with the Holocaust and the end of World War II, and it has continued to affect Jewish communities in the present day. Unpacked has published a helpful list of terms that may be used in conversation today to veil antisemitic views, also referred to as "dog whistles." These include referring to Jewish people as "Zionists" or the "Elite."
Combat antisemitism in your community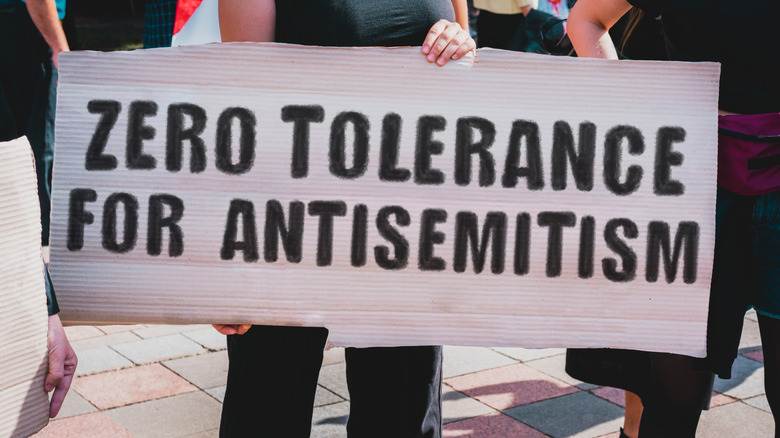 If you are in a position of privilege to be able to speak or act out against antisemitism as an ally, do so, but make sure that you are doing it safely. Attending events or rallies in solidarity with Jewish groups is one option, but make sure that you are familiar with the organizers and any and all safety protocols in place beforehand. The NYU School of Law has additional tips on the subject of attending protests specifically, and advises filming arrests and police activity, and avoiding running.
Shine A Light has additional resources geared toward those in the United States that range from information on legal protections to activities for families with children to complete together. Antisemitic incidents can be reported to local law enforcement as well as to organizations dedicated to fighting antisemtisim.
When in doubt, make sure to listen to members of the Jewish community for guidance on what you should or should not do as a non-Jewish ally.
Donate to organizations working to fight antisemitism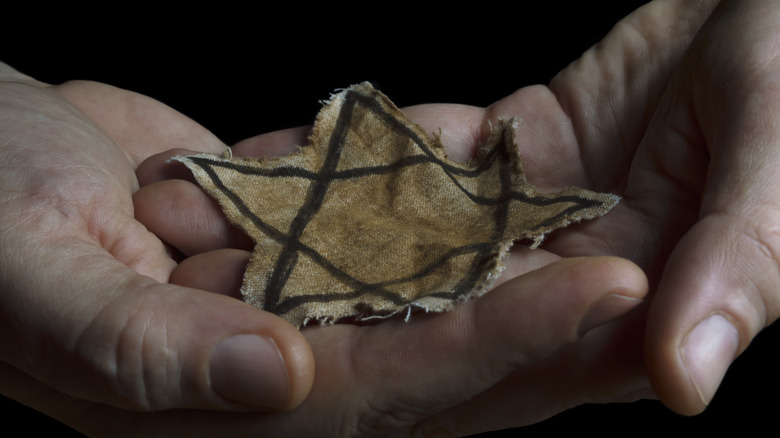 While it may not be possible for everyone, you can donate your time or money to organizations that are actively working to fight antisemitism, whether in your local area or more broadly. Some examples of relevant organizations include — but are not limited to — the Anti-Defamation League, Jews for Racial & Economic Justice, The Jewish Federations of North America, and the Simon Wiesenthal Center. You can also view more information about many organizations on websites such as Charity Navigator to help you in determining to which organizations you would like to donate or volunteer your time.
Helping smaller groups that are working against antisemitism — including those that exist within workplaces or at institutions of higher education, for example — might also be beneficial, depending on your personal circumstances. If you aren't sure if such groups exist within your community, ask around and see what you are able to find out from others.
Support your Jewish friends and family members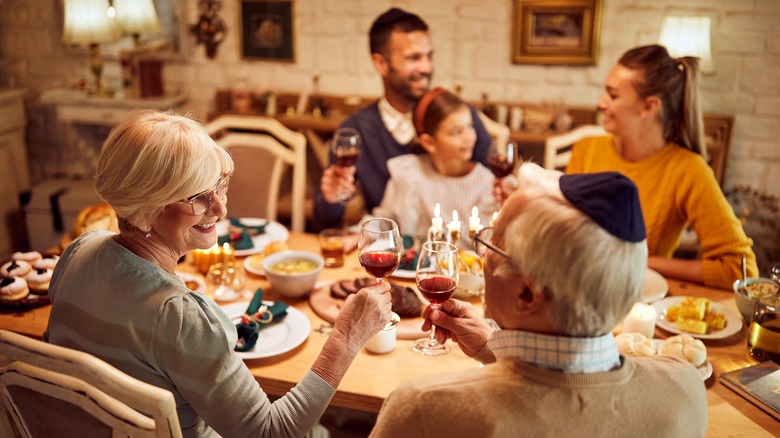 Finally, don't hesitate to reach out to your Jewish friends and family members directly to show them you care. This is especially important if you know someone who has been affected by an act of antisemitism, of course, but showing your support for the Jewish community is likely to be appreciated by your loved ones regardless.
While how you show your support may vary greatly depending on your life circumstances and those of the people in your life, the Louisville Courier-Journal discusses the importance of showing your solidarity with more than just empty gestures, such as reposting a social media image that has circulated in support of the Jewish community. Rather, it is more powerful to put pressure on elected leaders to enact change, and actively battle hate speech when it appears in daily life.
In addition, you can seek out opportunities to support the Jewish community in other ways, such as by shopping from Jewish-owned small businesses. (Jewhungry has one such list if you need a place to get started.)